ProBLEM
Already today, there's a shortage of caregivers in many countries. E.g. in Germany, there's a shortage of caregivers in all of its 16 states – and the trend is growing. Because 1.5 billion baby boomer on this planet are increasingly in need of care and there's less and less young people. But why not just educate more caregivers?
Finding those willing to take the profession is not easy. Part of the problem is that caregiving is – unfortunately – not very attractive as a profession nowadays. While it can be very rewarding, the salaries are low, the hours long, and the work taxing.
Because this is all part of the job, it's hard to improve the situation fundamentally.
Solution
This is where we believe, robodies can create critical value and make care-giving not only more attractive as a profession, but also more efficient. On the one hand unlocking new parts of the society to become caregivers and also making it easier for caregivers to care – helping to ease the problem from two sides. And because we really focus on human presence and not automation – it really stays a human care.
10x nurse
Research
TELESKOOP
"Teleskoop enables safe, fun & human ambulant care with robodies that caregivers love to use every day."

TELESKOOP PROJECT VISION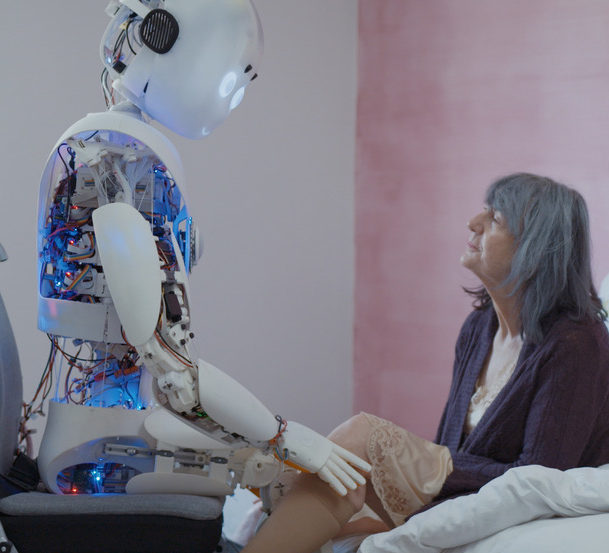 Funded by the German Ministry of Education & Science, Teleskoop is a 3 year project grant under the Innovative Startups for Human-Tech-Interaction funding scheme (StartMTI Module 2) – starting 10/2021 with the goal of bringing collaborative control to robodies in order to make ambulant care safe.

Collaborations
Robodies, Care & 5G
Together with the Swiss telecommunication provider Sunrise UPC, we've created a demonstrative show case for their Joint Innovation Center on how 5G enables robodies in care. Details will be unveiled 11/21.