EXPERIENCE ROBODY YOURSELF
Seeing a Robody on the internet is one thing. Yet another is interacting with one. And even more life-changing is becoming one. Put on a simple VR headset and experience what it means to become a Robody yourself.
We will keep this page updated, with planned upcoming experiences where public access is possible (e.g. fairs) – but if you wish to work with us, get a Robody for an event or have other crazy ideas, just let us know.
PREVIOUS EXPERIENCES
Munich – 22. – 24.7.2022 – FESTIVAL DER ZUKUNFT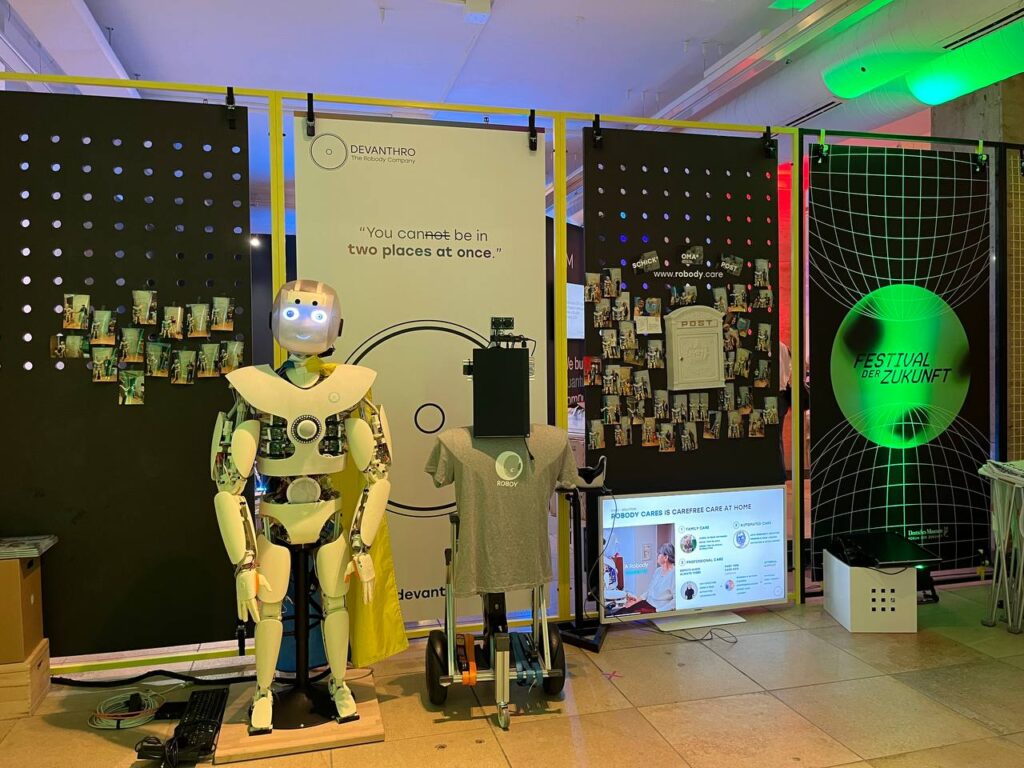 Over the 3 days, more than 200 first time operators experienced what it means to slip into a robody and have a true out of body experience.
To reach those who can't visit but will need care, we've been combining legacy technologies that are accessible for the elderly with state of the art technology that's inspirational for the visitors: "Send grandma post" – we've captured that ecstatic moment when people first realise they've teleported into another body, and printed it on post-cards to be sent to their (grand)parents.
We got tons of positive and useful feedback on Robody Cares!
More Information: https://www.festivalderzukunft.com
Sunrise Future Day – 11.11.2021, Zurich, CH
How to better show that using our technology is so easy & safe, any one can use it, than to let kids do it on a "Visit your parents work place"-day. Definitely a surefire way to make kids love their parent's company!
Partners

GITEX 2021 – 17.10.2021 – 21.10.2021, Dubai, UAE
Our first trip in a long time, and it went to Dubai! During the GITEX 2021, we've had more than 50 novel operators become a Robody themselves – and more than 1000 visitors interacting with them! That's how easy it is, to become a Robody!
Partners

Maldives – Munich scavenger hunt
8000km from Malé on the Maldives to Munich, Germany – 9 young students and the CCO of Maldives' largest Telco Ooredoo not only learnt how to control a robody across half the planet in minutes, but then had to immediately proof their newfound skill: Because suddenly, an accident in our lab needed instant help! Did our 10 times victim and CEO Rafael got saved every time? See for yourself!
Partners
ETH MEETS BERLIN 2020
rETHinking Obstacles: Telepresence and Bridges to the Future
Thriving in the face of significant adversity and overcoming obstacles is a unique human ability. Engineering embodies the resilience and inventiveness of the human spirit. It is this spirit that is, perhaps, best represented by the iconic bridges and viaducts of Switzerland. These soaring structures bridge gaps and make new connections – making the improbable possible. Join us and together we connect the dots from Zurich to Berlin, from engineering to society, and from the present to the future. "Roboy 3.0" will create a special and real-​time connection to Lora Koycheva, anthropologist from Munich. This symposium brings together a panel of unique perspectives – an anthropologist, a roboticist, and a scientist who will showcase how embodied telepresence robotics is already building exciting, unexpected, and unanticipated bridges.
Watch the full podium.
Partners